Wildlife photography is a captivating art that requires patience, precision, and a deep understanding of the natural world. In recent years, advances in technology have provided photographers with powerful tools to enhance their craft, and one of the most valuable of these tools is EXIF data. EXIF (Exchangeable Image File Format) data is a treasure trove of information embedded within digital photographs, revealing critical details about the camera settings, location, and time of each shot. For wildlife photographers, EXIF data has become an invaluable resource for analyzing animal behavior and optimizing their shots. In this blog post, we will explore how wildlife photographers leverage EXIF data to gain insights into the animal kingdom and capture breathtaking images.
Understanding EXIF Data
Before delving into the applications of EXIF data in wildlife photography, let's first understand what it encompasses. EXIF data is a metadata package that accompanies each digital photograph. It includes information such as:
Camera settings: Details about aperture, shutter speed, ISO, and focal length used to capture the image.
Date and time: The precise moment when the photo was taken.
GPS coordinates: Location data indicating where the shot was captured.
Lens information: Data about the lens used, including focal length and lens manufacturer.
Exposure information: Histograms, exposure compensation, and flash settings.
File format: The file type (e.g., JPEG, RAW) and compression level.
Copyright and authorship information: Details about the photographer and copyright holder.
Now, let's explore how wildlife photographers utilize this data to their advantage.
1. Analyzing Animal Behavior
One of the most fascinating aspects of wildlife photography is capturing the natural behaviors of animals in their habitats. EXIF data helps photographers study these behaviors by providing insights into the circumstances surrounding a shot. Here's how:
a. Time of Day: By examining the timestamp in EXIF data, photographers can determine when certain behaviors are more likely to occur. For instance, predators may be more active during dawn and dusk.
b. Shutter Speed: A fast shutter speed indicates that the photographer was capturing fast-moving subjects, such as a bird in flight or a running cheetah. This information can be used to study the speed and agility of different species.
c. Aperture: The aperture setting affects the depth of field in a photo. Photographers can use this information to understand whether the subject was in motion or stationary. A wide aperture might indicate an animal on the move, while a narrow aperture suggests a static subject.
2. Enhancing Photography Techniques
EXIF data allows photographers to learn from their own work and improve their techniques over time. They can analyze which settings yielded the best results and adjust accordingly. For instance:
a. ISO Setting: Examining the ISO values in EXIF data helps photographers determine the optimal sensitivity for various lighting conditions. This knowledge enables them to reduce noise and maintain image quality.
b. Focal Length: Focal length data helps photographers select the right lens for specific wildlife scenarios, whether it's a close-up portrait of a predator or a landscape shot of a herd.
c. GPS Coordinates: By studying the location data, photographers can revisit successful shooting locations during specific seasons or conditions when wildlife behavior is particularly captivating.
3. Conservation and Research
Wildlife photographers often share their work with the scientific community and conservationists to contribute valuable data to the study and protection of endangered species. EXIF data plays a significant role in this endeavor by providing accurate information about the time and place of wildlife sightings.
ENABLE METADATA OPTIONS:
You can view exif information any of your devices.
There are also apps that shows EXIF metadata for images saved on your device. For iOS user we suggest "Exif Viewer by Fluntro".
Download an EXIF viewer app from the App Store, such as "Exif Viewer by Fluntro."
Open the app, import your photo, and View, Remove and Edit the EXIF data.
Appstore Link: – https://apps.apple.com/us/app/exif-viewer-by-fluntro/id944118456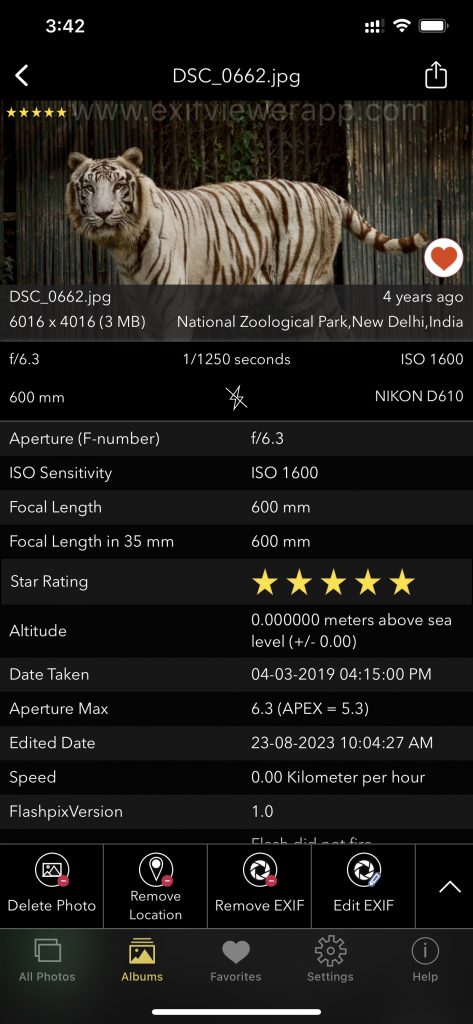 Screenshot of EXIF Viewer by Fluntro app displaying detail view of all exif information of a photo
Checkout the preview video of Exif Viewer by Fluntro:
EXIF data is a powerful tool that has revolutionized wildlife photography, allowing photographers to gain insights into animal behavior, enhance their techniques, and contribute to conservation efforts. Through the meticulous analysis of camera settings, timestamps, and location data, wildlife photographers unlock the secrets of the natural world, creating captivating images that both inspire and educate. As technology continues to advance, EXIF data will undoubtedly remain an essential resource in the pursuit of stunning wildlife photography.