In the world of photography, editing is a powerful tool that allows photographers to enhance their images, correct imperfections, and bring their creative visions to life. However, as you dive into the realm of photo editing, it's essential to understand the role of metadata, specifically EXIF data, and how photo editing software can either preserve or alter this valuable information.
WHAT IS EXIF METADATA?
EXIF stands for Exchangeable Image File Format, and it's a standardized format for storing metadata within a photo file. This metadata includes essential information about the image, such as:
Camera Settings: This includes details like the camera model, aperture, shutter speed, ISO, and focal length used when capturing the photo.
Date and Time: EXIF data stores the date and time when the photo was taken, allowing you to track when an image was created.
Geolocation: For photos taken with GPS-enabled cameras or smartphones, EXIF data may include GPS coordinates, providing the precise location where the image was captured.
Copyright Information: Photographers can embed copyright and contact information, making it easier to protect their work.
Image Processing: Some EXIF data may also include details about post-processing, such as the software used and the settings applied during editing.
FOR VIEWING EXIF DATA
On a windows PC: Use File Explorer and other Third-party softwares like "Exif Pilot" or "ExifPro".
On a MAC: Use Preview, Photos App.
On Android devices: Built-in Gallery App and Third-party Apps like "EXIF Editor" or "Photo EXIF Editor."
On iOS devices: Photos App and Third-party Apps like Exif Viewer by Fluntro.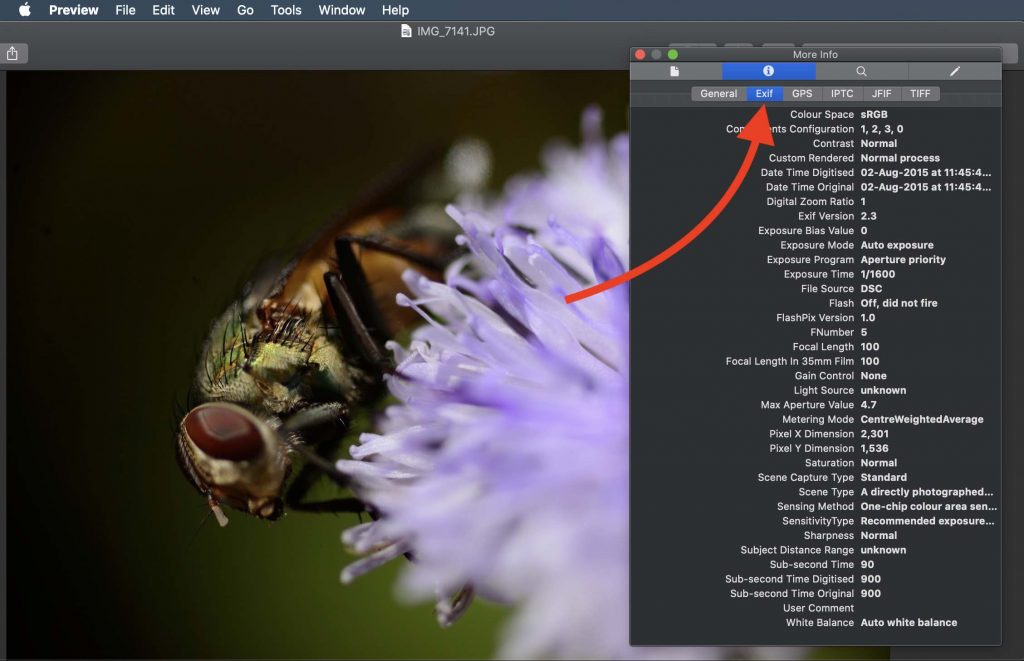 On Mac : screenshots displaying exif information of picture in Preview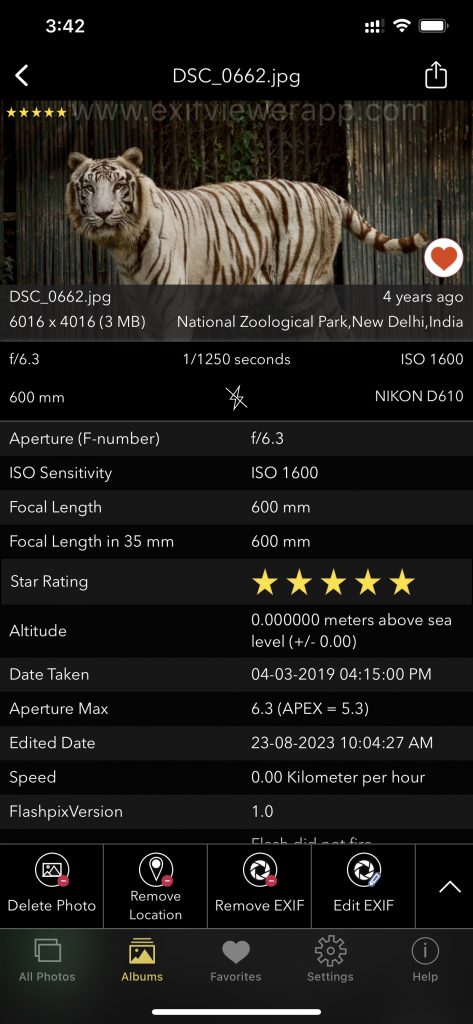 On iOS: Screenshot of EXIF Viewer by Fluntro app displaying detail view of all exif information of a photo
For iOS users Using Third-party Apps:
Download an EXIF viewer app from the App Store, such as "Exif Viewer by Fluntro."
Open the app, import your photo, and View, Remove and Edit the EXIF data.
Appstore Link: – https://apps.apple.com/us/app/exif-viewer-by-fluntro/id944118456
Checkout the preview video of Exif Viewer by Fluntro:
PRESERVATION OF EXIF DATA
Preserving EXIF data during the editing process is crucial for various reasons:
Authenticity: EXIF data can serve as proof of the authenticity of an image, helping to verify its origin and the conditions under which it was taken.
Workflow Documentation: Photographers often use EXIF data to document their workflow, which can be helpful for learning and sharing techniques with others.
Legal Protection: Embedded copyright information can assist photographers in protecting their intellectual property rights.
Many photo editing software applications understand the importance of preserving EXIF data and make it a priority to retain this information when you make edits to your images. When you save an edited photo, the EXIF data is typically carried over, ensuring that the original information remains intact.
Screenshot of Exif Viewer by Fluntro iOS App on iPhone
ALTERATION OF EXIF DATA
While preserving EXIF data is generally considered good practice, some situations may warrant altering or stripping it from an image:
Privacy Concerns: Sharing GPS coordinates of your home or personal locations in publicly shared images can pose privacy risks. In such cases, removing geolocation data from the EXIF can be advisable.
Protecting Workflow Secrets: Professional photographers may choose to remove certain EXIF details, such as the software and settings used, to keep their editing techniques and style confidential.
Simplified Presentation: In some cases, you might want to share a clean, uncluttered image without the distractions of visible metadata.
Below screenshot of editing multiple images selected Exif metadata's like date, time, location, longitude, latitude, copyright, focal length, title, cation, artist name, adding keywords, user comments, and more.
It's essential to note that while altering EXIF data is possible, it should always be done ethically and with a clear purpose in mind. Misleading or falsifying EXIF data can be deceptive and undermine the integrity of photography.
Metadata, specifically EXIF data, plays a vital role in photography, providing valuable information about an image's origin and the conditions under which it was captured. Photo editing software has evolved to ensure the preservation of EXIF data while allowing users to make necessary edits to their images. Whether you choose to retain or alter EXIF data, it's essential to do so with respect for privacy, transparency, and the ethics of photography. Striking the right balance between preserving and altering metadata will help you maintain the integrity of your work while respecting the rights and privacy of others.