What is shutter count?
Shutter count is number of times camera's shutter has been fired or actuated. The camera keeps on recording this number every time shutter actuates when you press the shutter button. It indicates how much camera has been used. Shutter life expectancy :- generally shutter count is rated from 50,000 to 4,00,000. After which shutter might be mechanically wear off and needs to get serviced. This wouldn't be an issue for Digital camera's using Electronic shutter. Electronic shutter works by turning on/off Camera's image sensor to control exposure.
Some digital cameras / mobile phones cameras like iPhone does NOT store shutter count in EXIF Metadata. Some cameras does store shutter count inside its internal memory but doesn't include them in EXIF Metadata recorded in photos shot on it. Camera Manufacturer might be able to get this working over firmware update or OS update incase of Mobile phone cameras.
How to view Shutter count on iPhone or iPad?
To check shutter count stored within EXIF Metadata, use any EXIF Apps from Appstore like ours "EXIF Viewer by Fluntro" that displays shutter count.
NOTE: This would work only if your Digital camera records shutter count within EXIF Metadata of Photos.
Step by step instructions
Download the "Exif Viewer by Fluntro" App from Appstore –
Appstore Link: – https://apps.apple.com/us/app/exif-viewer-by-fluntro/id944118456
After downloading and installing the app, open app and allow the app to access to your photos.
Select the Desired Photo.
Shutter count would be displayed on the EXIF Details of the specific photo.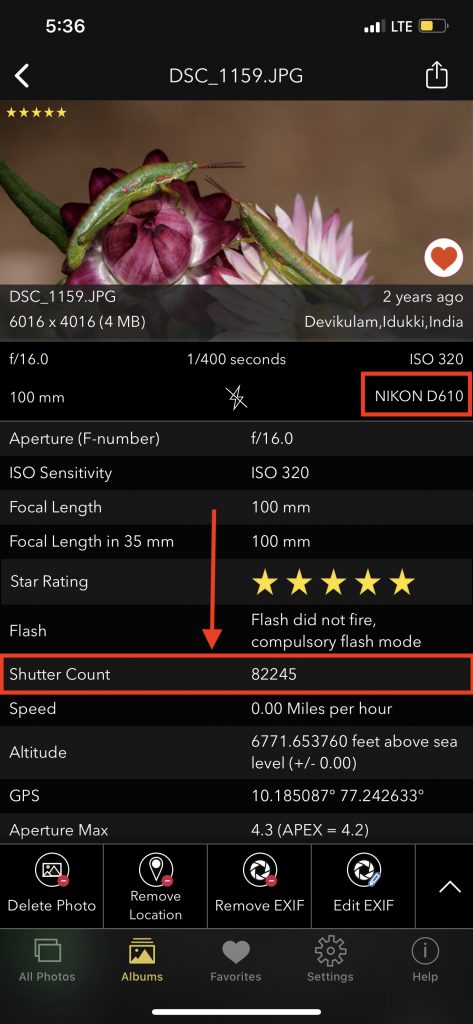 You can long press on it to copy "Shutter count 10800" text to clipboard and paste it on any other text field
LIST OF Cameras which stores shutter count in EXIF Metadata of photos
Nikon
Nikon D3000, Nikon D3100, Nikon D3200, Nikon D3300, Nikon D3400, Nikon D3500
Nikon D5000, Nikon D5100, Nikon D5200, Nikon D5300, Nikon D5500, Nikon D5600
Nikon D7000, Nikon D7100, Nikon D7200, Nikon D7500
Nikon D200, Nikon D300, Nikon D300s, Nikon D500
Nikon D600, Nikon D610,
Nikon D700, Nikon D750, Nikon D780
Nikon D800, Nikon D800E, Nikon D810, Nikon D810A, Nikon D850
Nikon D3, Nikon D3S, Nikon D4, Nikon D4S, Nikon D5, Nikon D6
Nikon D40, Nikon D40x, Nikon D50, Nikon D60, Nikon D70, Nikon D70s, Nikon D80, Nikon D90
Nikon Z5, Nikon Z6, Nikon Z6_2, Nikon Z7, Nikon Z7_2, Nikon Z50
Nikon DF
Nikon 1 AW1, Nikon 1J1, Nikon 1 J2, Nikon 1 J3, Nikon 1 J4, Nikon 1 J5
Nikon 1 S1, Nikon 1 S2
Nikon 1V1, Nikon 1 V2, Nikon 1 V3
Nikon D2H, Nikon D2HS, Nikon D2X, Nikon D2XS
Canon
Canon EOS 1D, Canon EOS 1D Mark II, Canon EOS 1D Mark III
Canon EOS-1DS, Canon EOS 1DS Mark II
Canon EOS 5D, Canon EOS 600D, Canon EOS 700D, Canon EOS 60D,
Sony
Sony α7 II, Sony α7R II, Sony α7S II, Sony α7R III, Sony α7 III, Sony α7R IV, Sony α7S III, and Sony α7C
Sony Alpha 230, Alpha 290, Alpha 330, Alpha 390, Alpha 450, Alpha 500, Alpha 550, Alpha 560, Alpha 560, Alpha 580, Alpha 850, Alpha 900
Recommendation

:

Highly recommend to try out Lite (FREE Version Trial version) first, EXIF Viewer by Fluntro Lite to double check whether your Camera records shutter count inside EXIF Metadata before downloading Paid Full version.

Appstore link of Free Lite version :- https://apps.apple.com/us/app/exif-viewer-lite-by-fluntro/id979066584

Appstore link of paid Full version :- https://apps.apple.com/us/app/exif-viewer-by-fluntro/id944118456